Strange Animals 19oct2020: What's Up, Date?
Another week, right on time. I know – I'm as surprised as you. And believe it or not, I got this one done on Friday – without Twitter, I was positively hankering for somewhere to put down all my thoughts. I almost decided on moving this to twice-weekly, but I know it's a temporary high, and I should concentrate on actually trying to get this out weekly for a few months before deciding to change things up. Do less but better, and all that.
(I spoke too soon. We will in fact be twice-weekly this week, because Substack told me that my main essay apparently made this email too long to be visible in a standard email client, so I'm going to send that separately on Wednesday or Thursday.)
1. Notes
Work on the Art Deco typeface continues apace. Working title "Felicitous". I've finished a full draft of both cases, though I expect to continue tweaking for a bit longer. (You can see the discarded versions of letters off to the sides.) I'm also working on an italic that, as I said last week, is going to be interesting. I'm not sure it's ready to been shown off yet. Maybe next week.

Once I've landed on the skeletons and the right weight for the lines (I think we're nearly there, but I'll need to do a few print tests before I decide), it'll go through a process of "naturalising" in which I'll roughen up the lines to simulate the way an actual pen would draw these.
Here's the font in action, and if you recognise the words, you'll know which book I'm working on this for.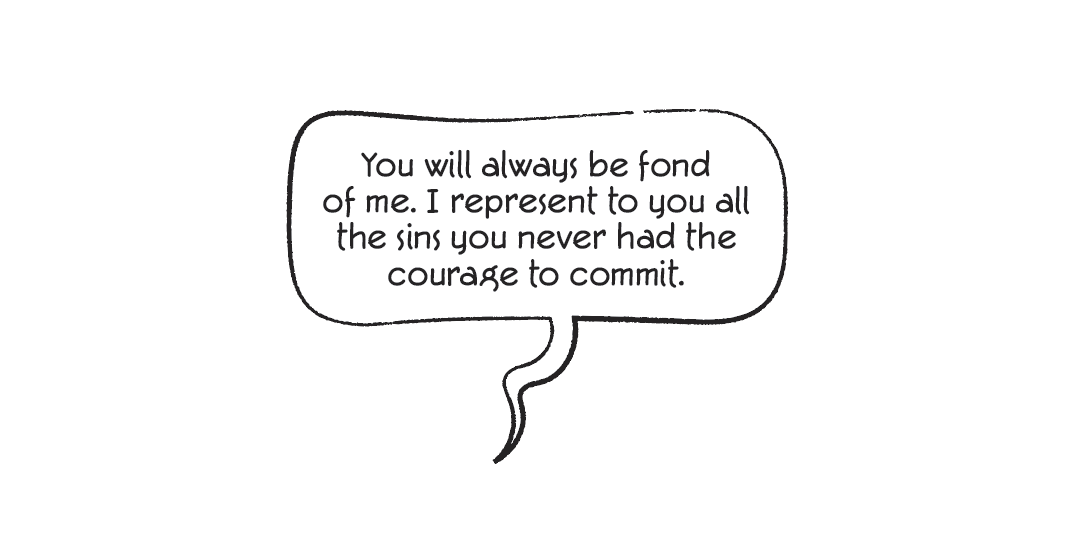 News-wise, well, the latest thing first – These Savage Shores won the Ignyte Award for Best Comics Team at this weekend's FIYAHCON. Congrats to my colleagues Ram, Sumit, Vittorio, Tim and Adrian!
Next up, Alex and John were interviewed over at Multiversity Comics about Giga. You can see here the kind of intellect and talent they're bringing to it (which is why the little Alex effigy I have is in a corner of my office, as yet unburnt). Giga #1 is in stores 28th October!
Last week saw the release of The Doomed and the Damned, a horror one-shot from DC Comics in which I lettered "From Humble Roots", a Superman/Swamp Thing team-up written by Amedeo Turturro, drawn by Max Fiumara, and coloured by Dave Stewart. (This is the story I was referring to in this tweet.)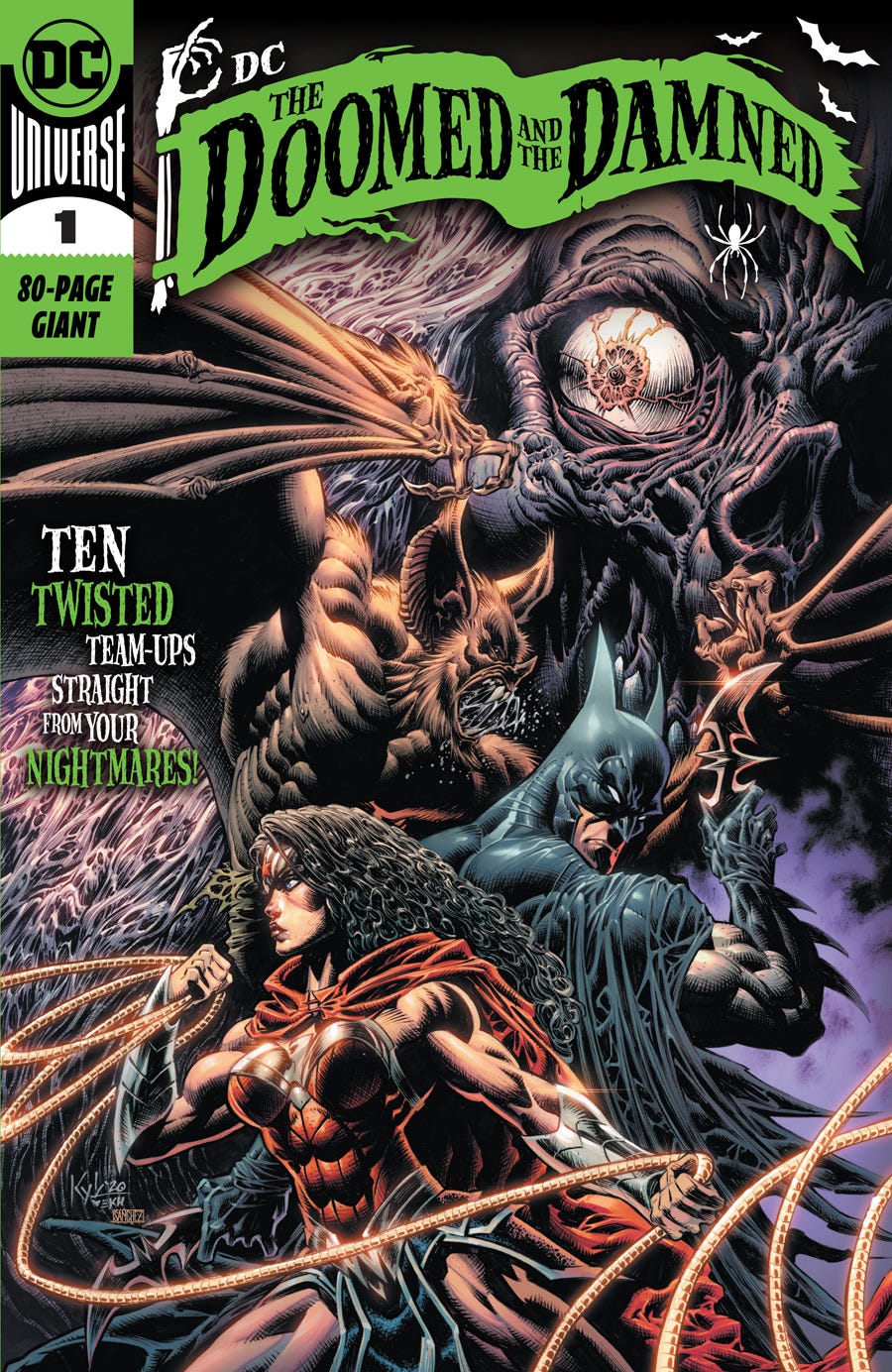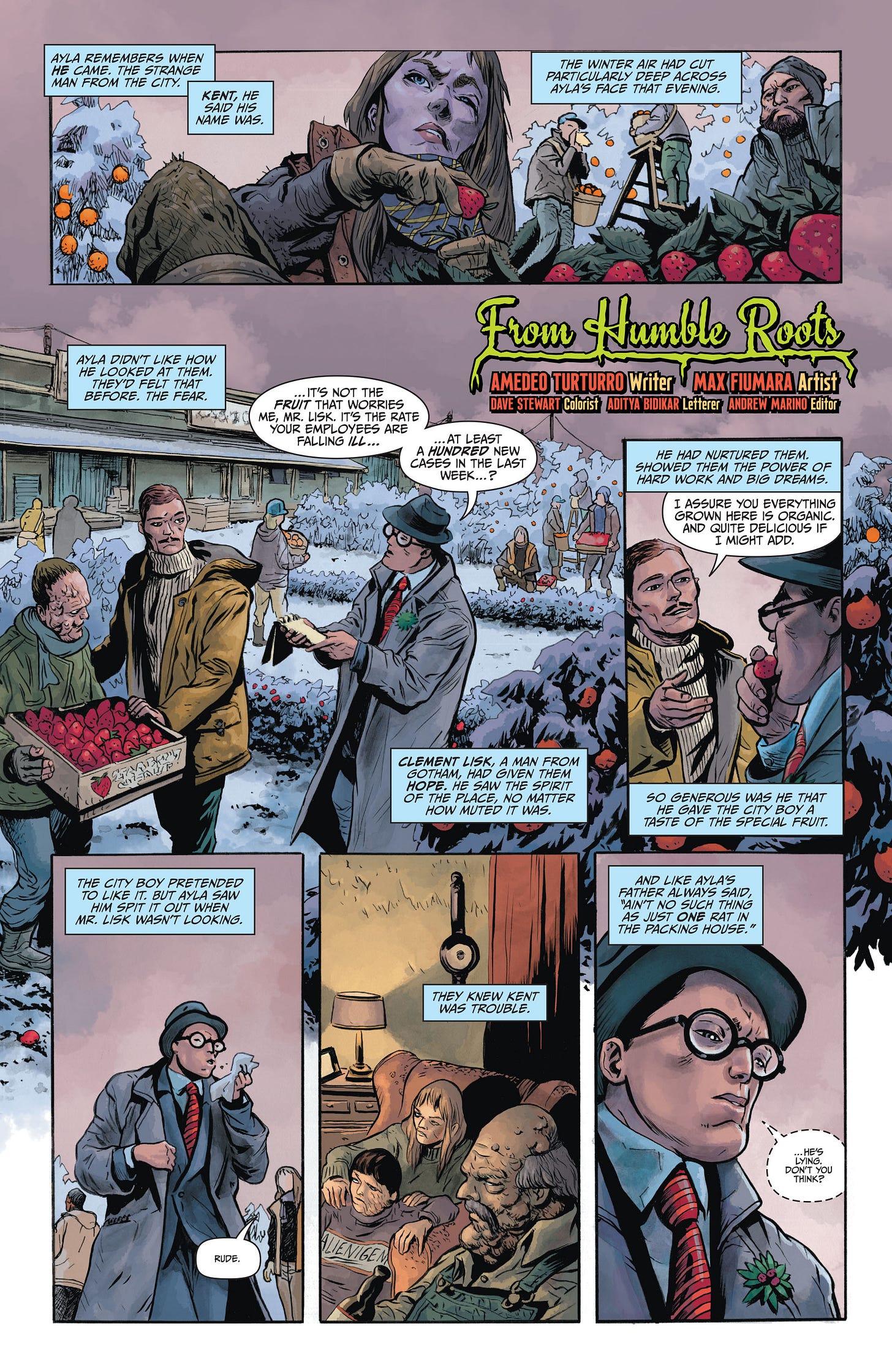 Blue in Green comps have been sent out. I should get mine this week, but in the meantime, Ram sent over these pictures of what it looks like in real life. It's a book!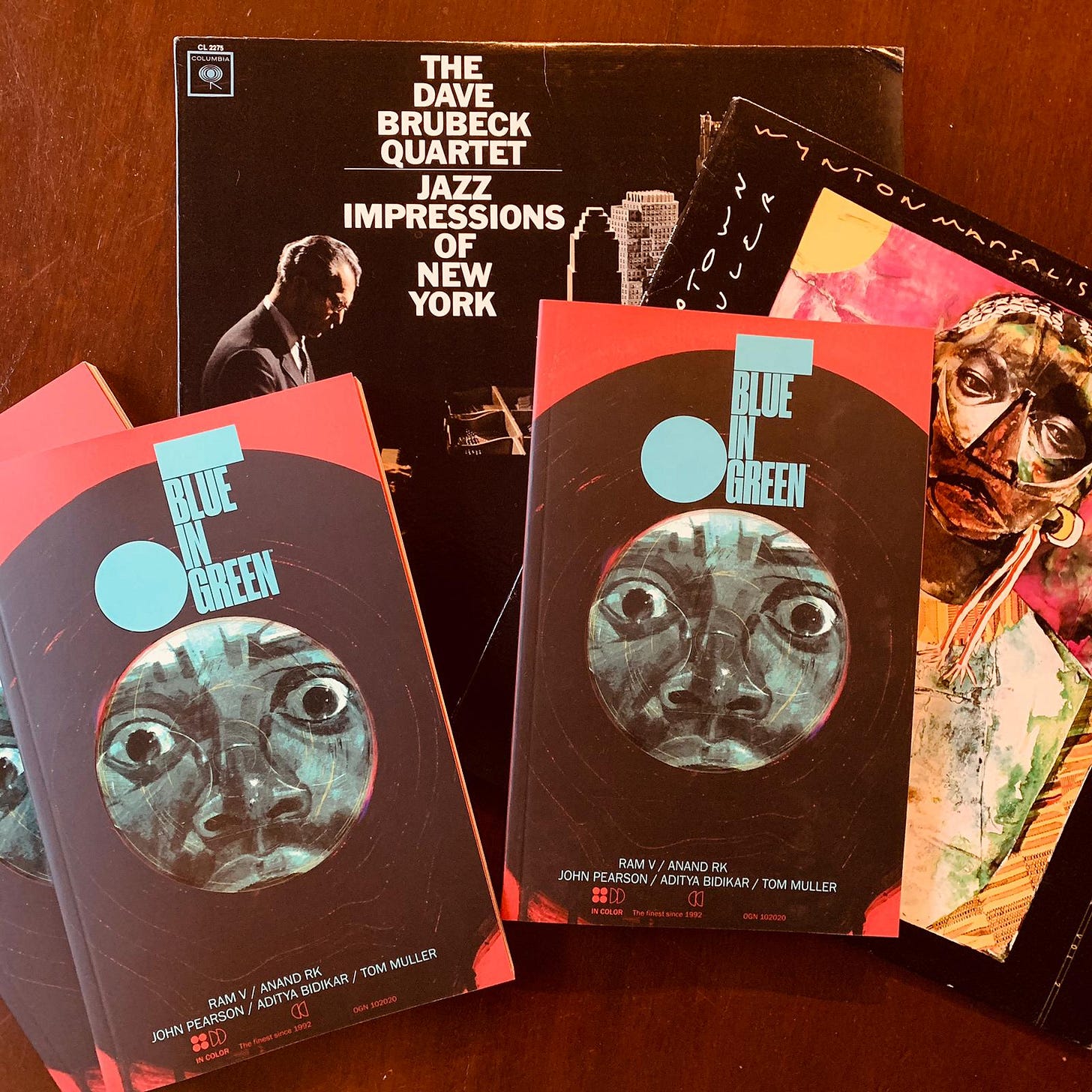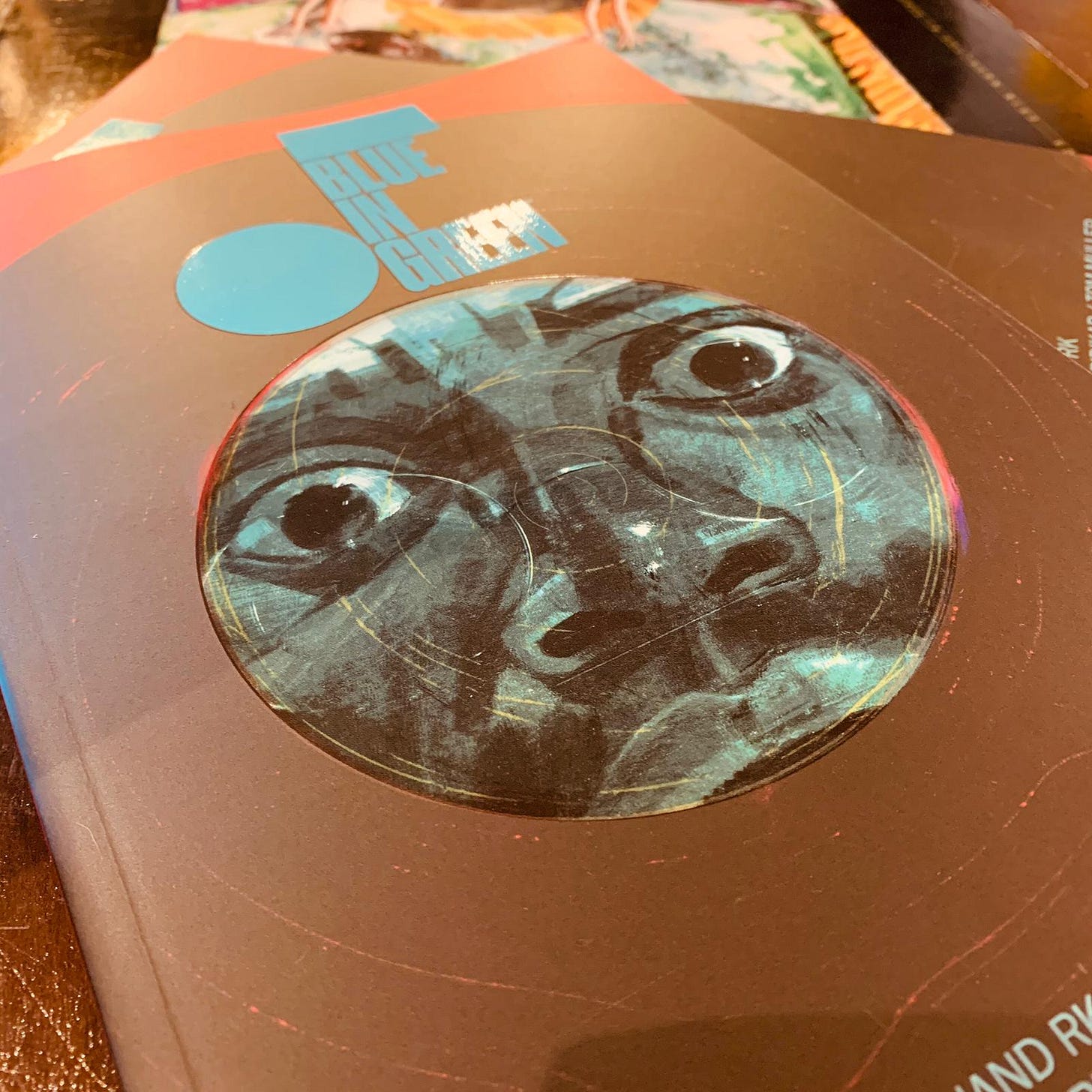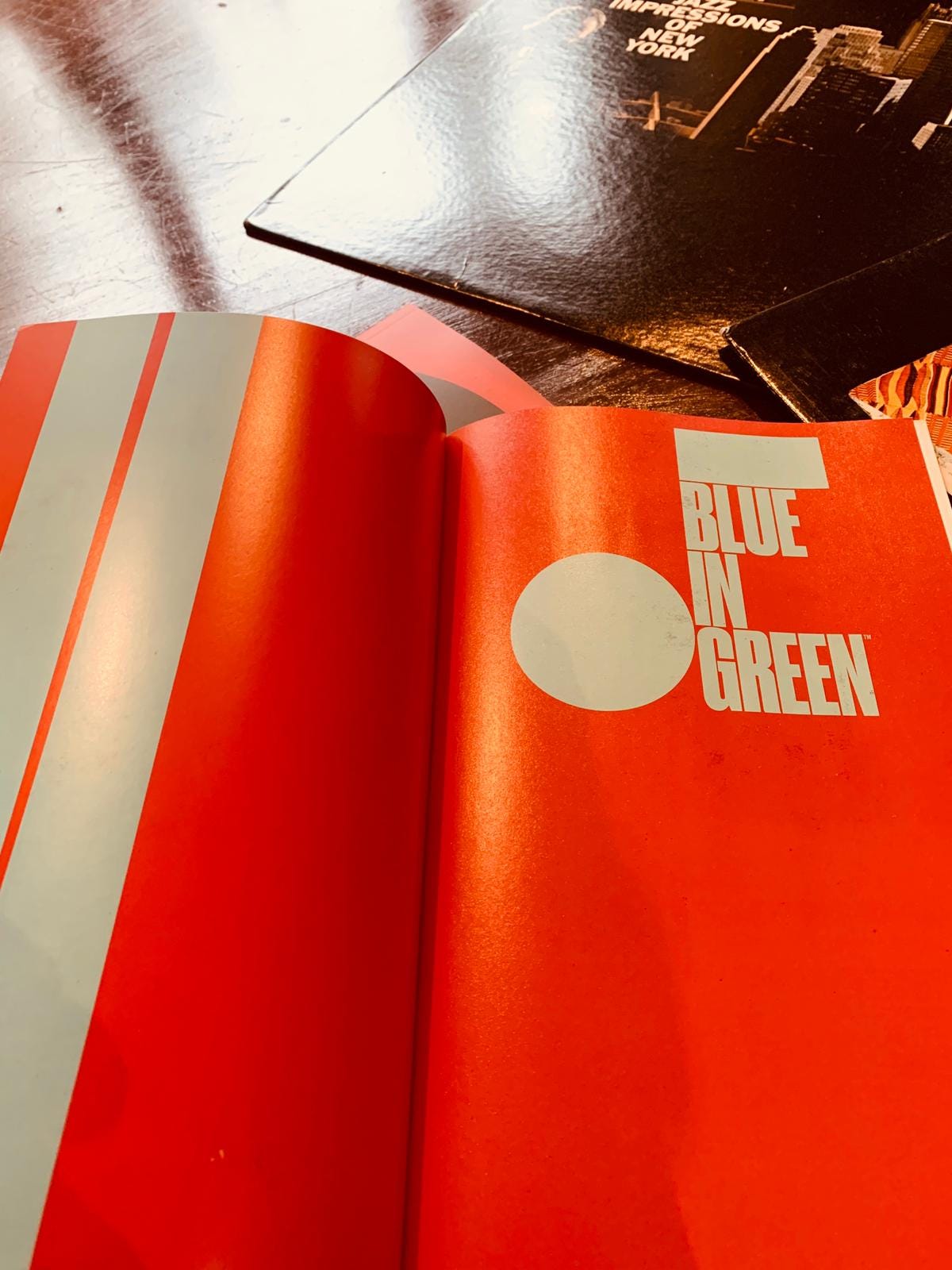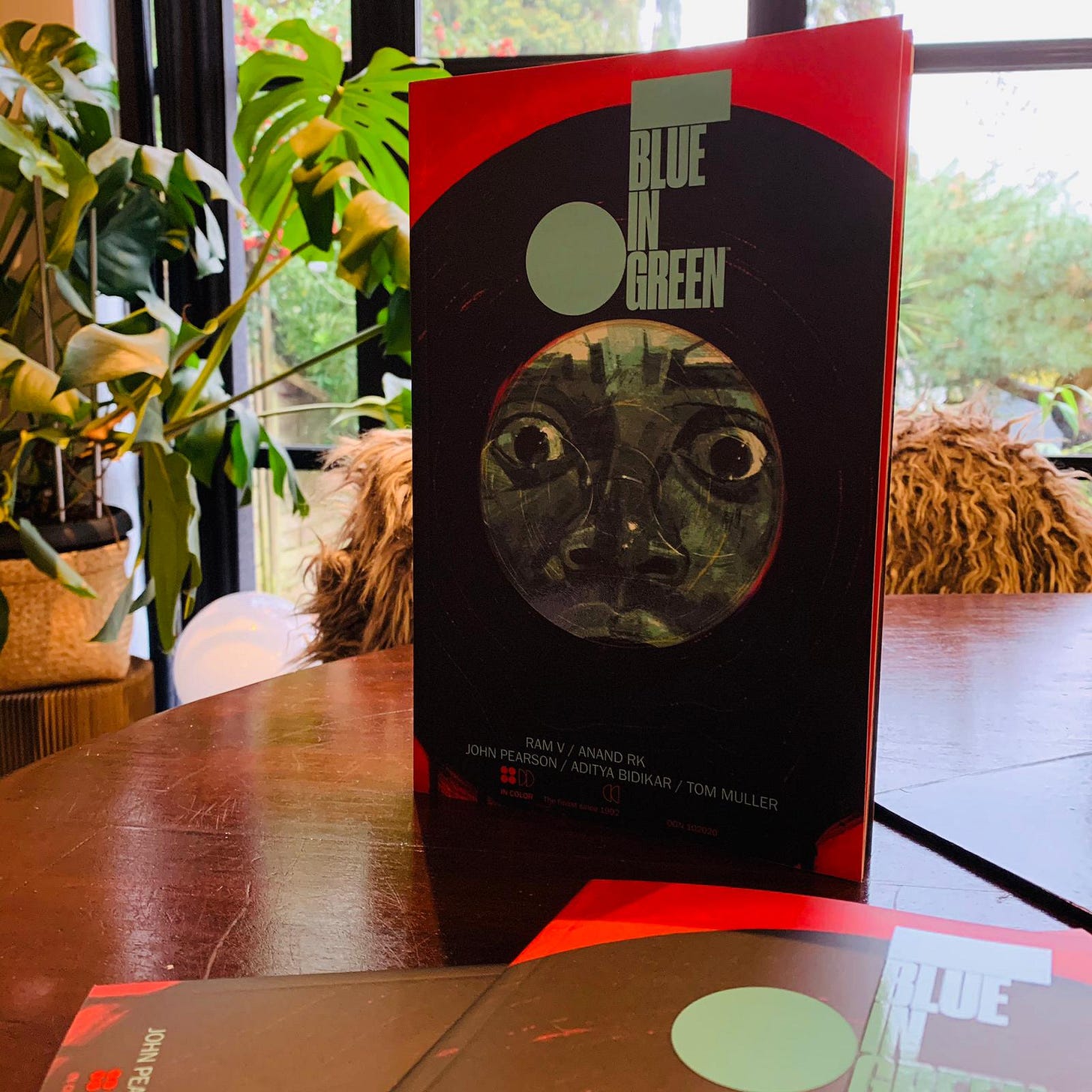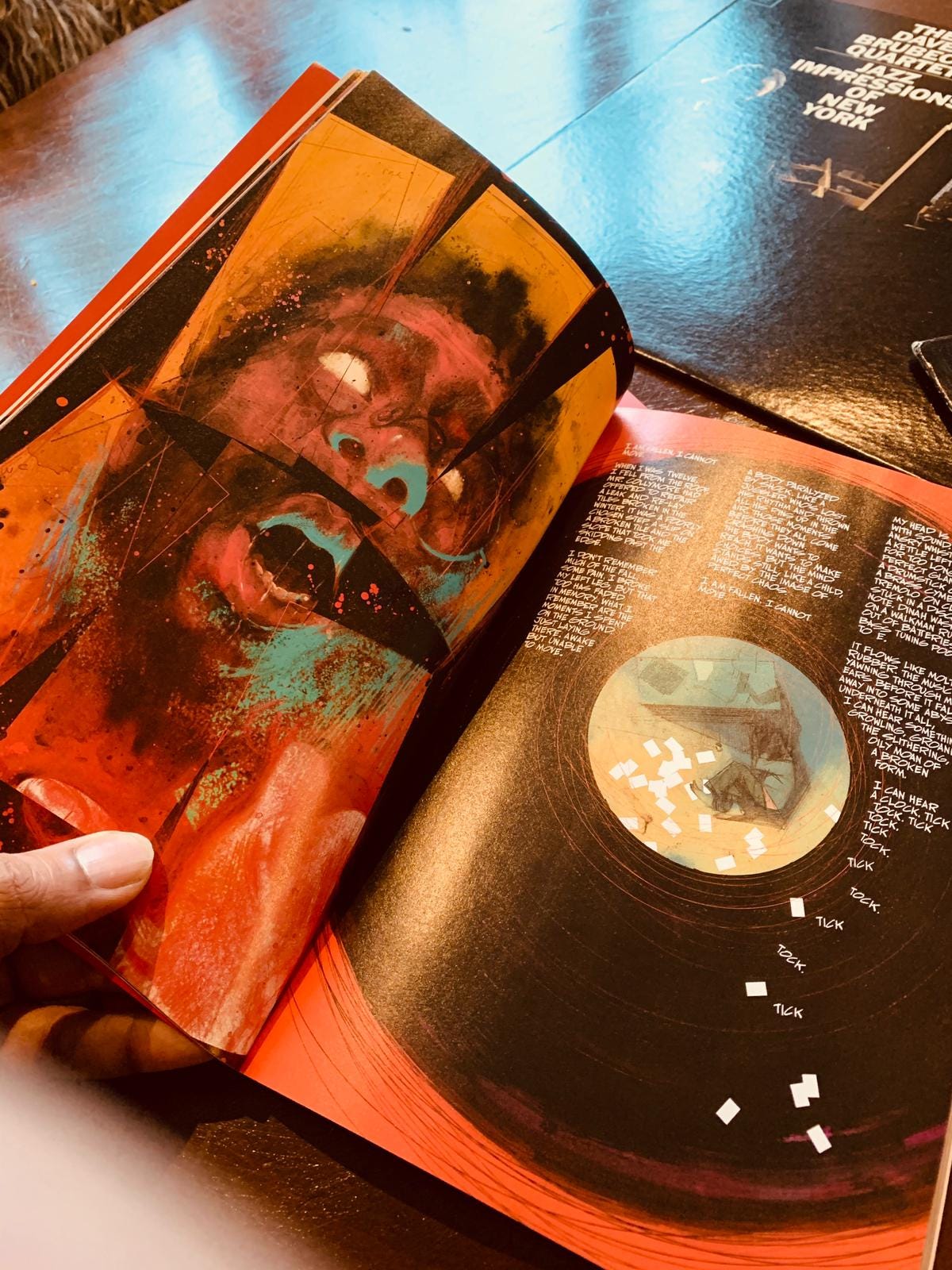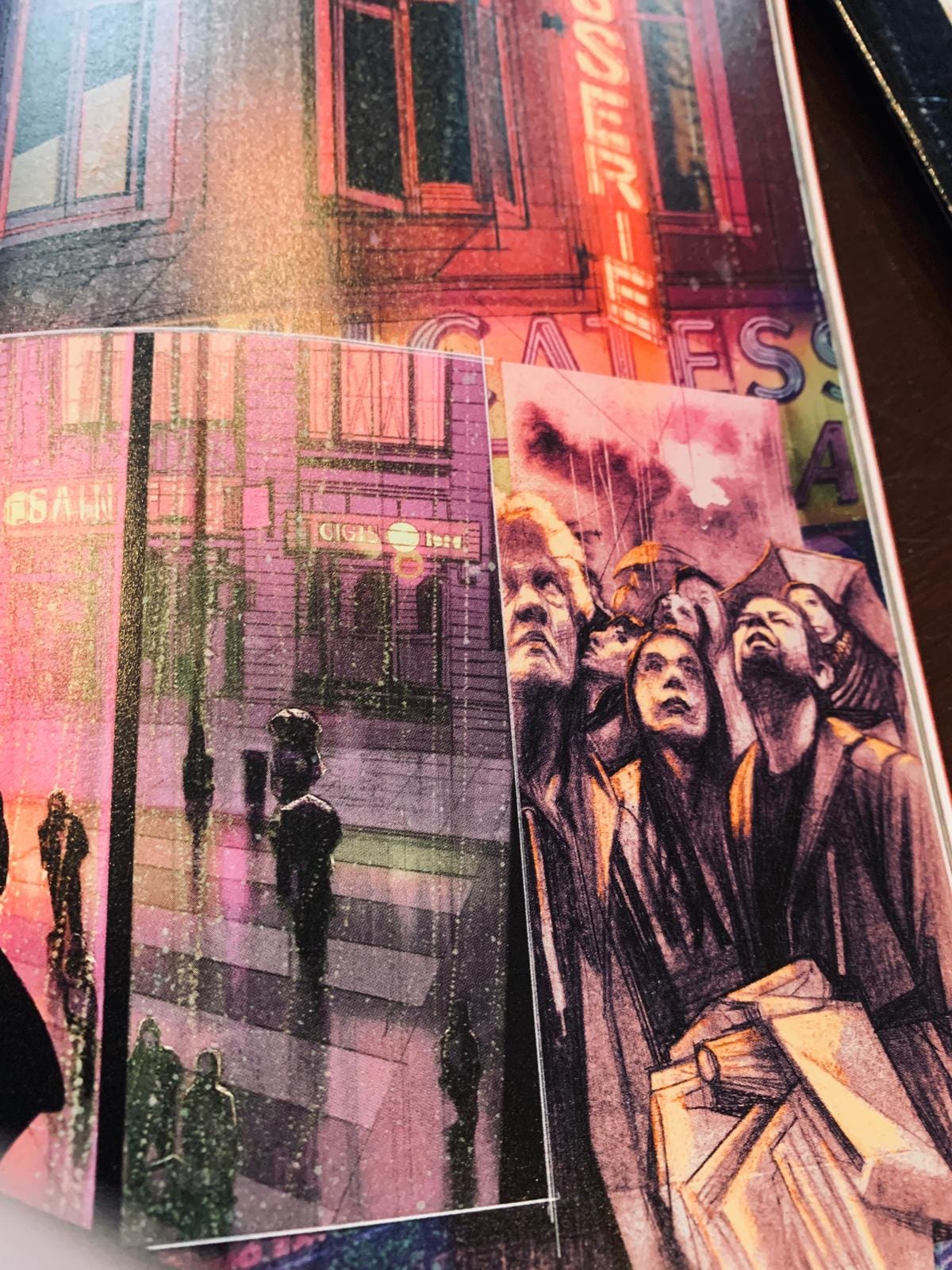 Ram was interviewed at DoomRocket about it. There's a little bit about me in there that's incredibly flattering, but the whole interview is well worth a read if you were thinking of checking out Blue in Green but weren't sure yet.
Q: Aditya is one of my favorite letterers, chiefly because he has an ability to bring a style to any book that fits better than anything anybody else could possibly come up with. His balloons, his captions, they snap onto the page, fit as though they were always there. When Aditya brought fonts for you to check out, did you already know what you wanted to see, or did he end up surprising you?

Aditya is everyone's favourite letterer! To me the quality I like about him the most is his fearlessness. If Anand and I were pushing ourselves creatively with the writing and art, you can see Aditya pushing the lettering and the narrative aspects of it at his end. The book is full of clever little things with the lettering and a lot of them are Aditya's ideas and a few of them mine. But it is always thrilling to work with a collaborator who'll push himself to contribute to what the book is doing as a piece of narrative art.

Aditya did bring in the fonts and we did a few test pages. We decided on a slightly unhinged, jerky style for the lettering here and I think it works to create this nervous, frantic energy. I like that a lot.

Of course, a madman, he talked himself into hand-lettering the whole thing. I don't know if it's a thing he'll want to do again for a while. But the results are gorgeous. Again a thing that was crafted and not produced.
And after I wrote the above, beast that he is, Ram did another interview about Blue in Green that's well worth your time. In stores on the 28th.
Finally, DC Comics has announced their slate of Future State comics, releasing from January onwards, and I'm working on two of these – the lead story in Future State: Dark Detective, by Mark Tamaki, Dan Mora and Jordie Bellaire (that last cover by the incredible John Paul Leon: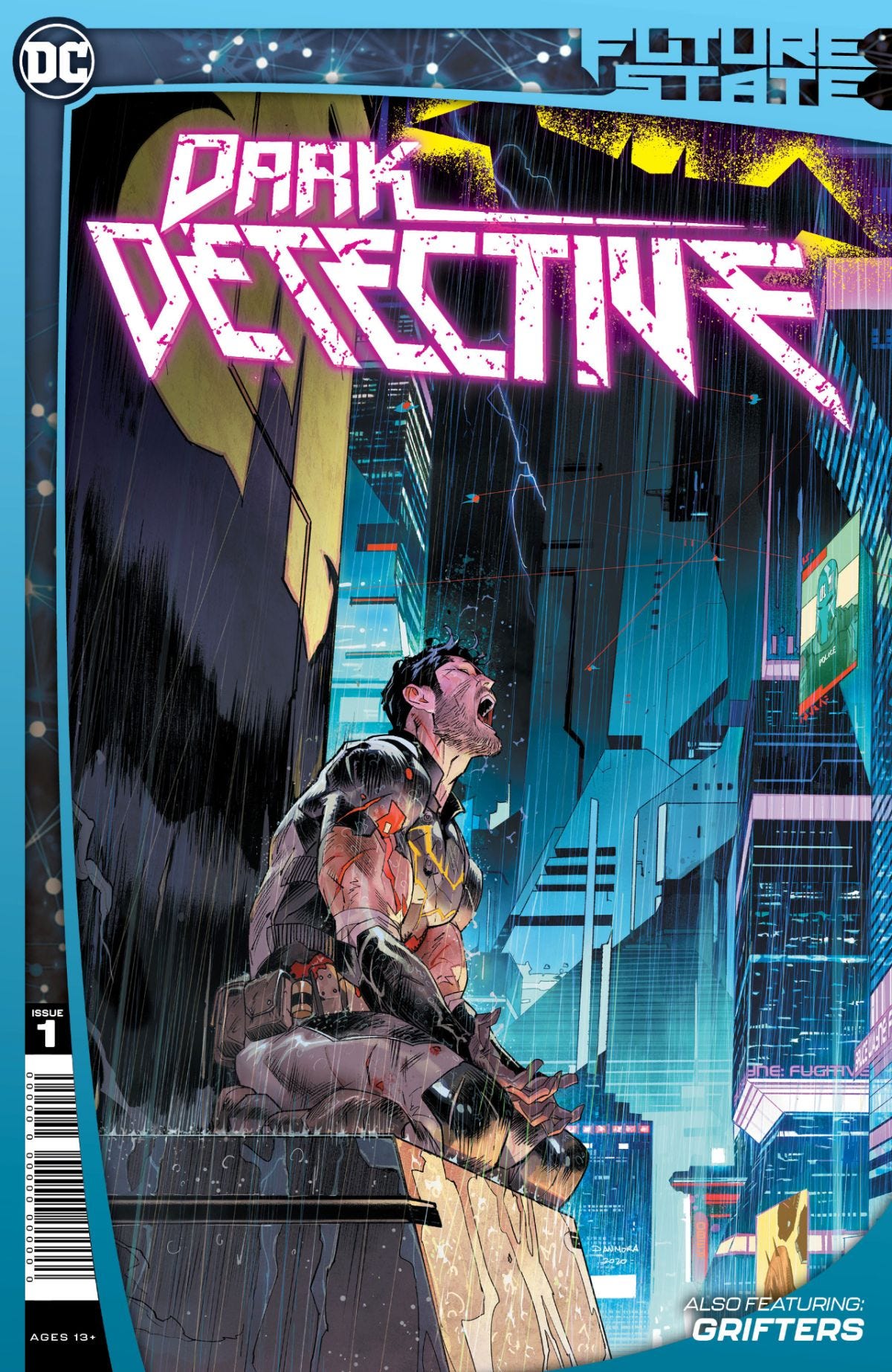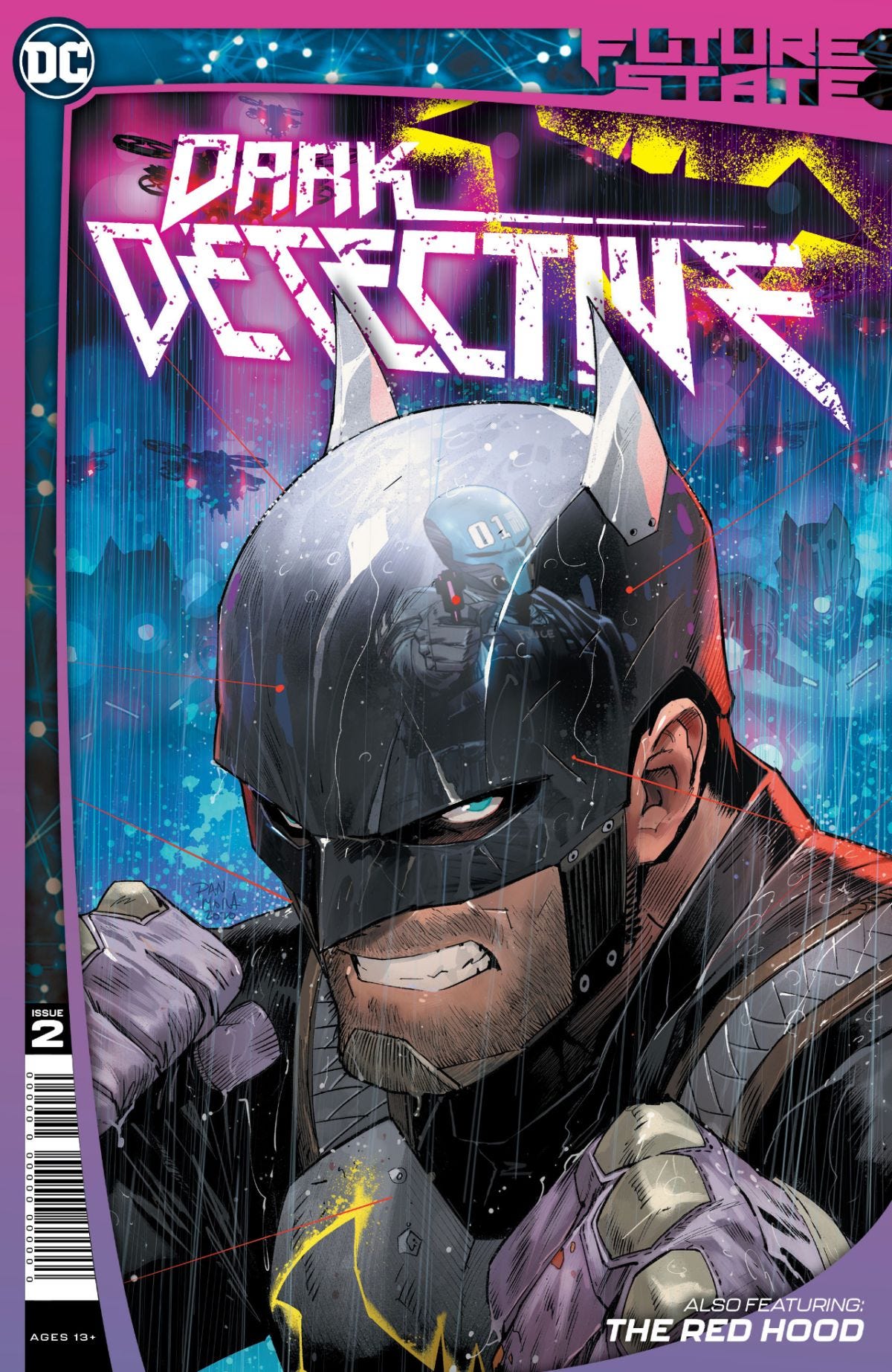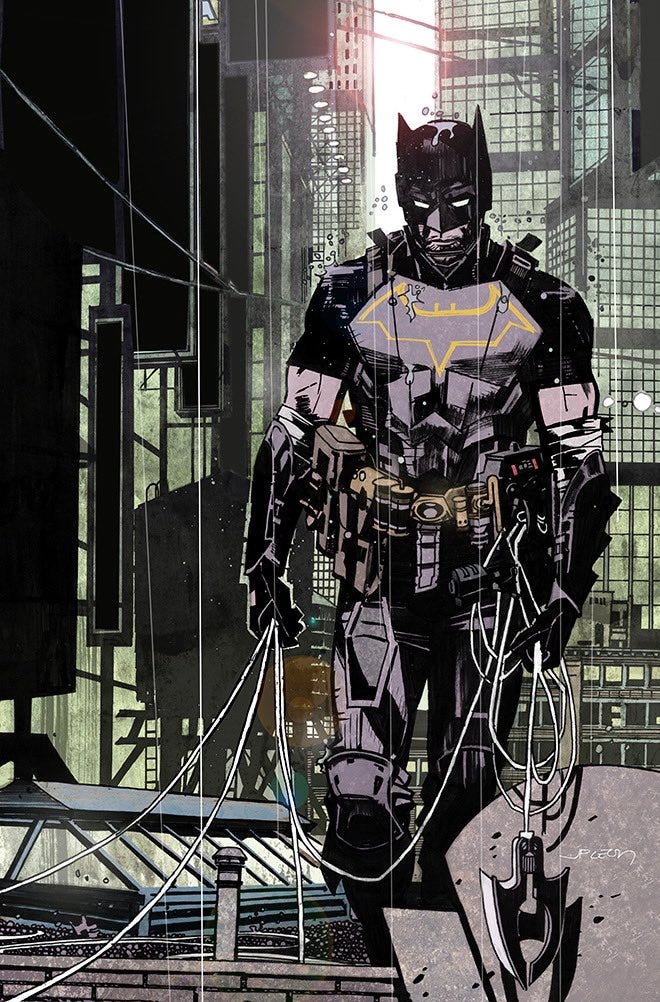 And Future State: Swamp Thing, by Ram V, Mike Perkins and June Chung: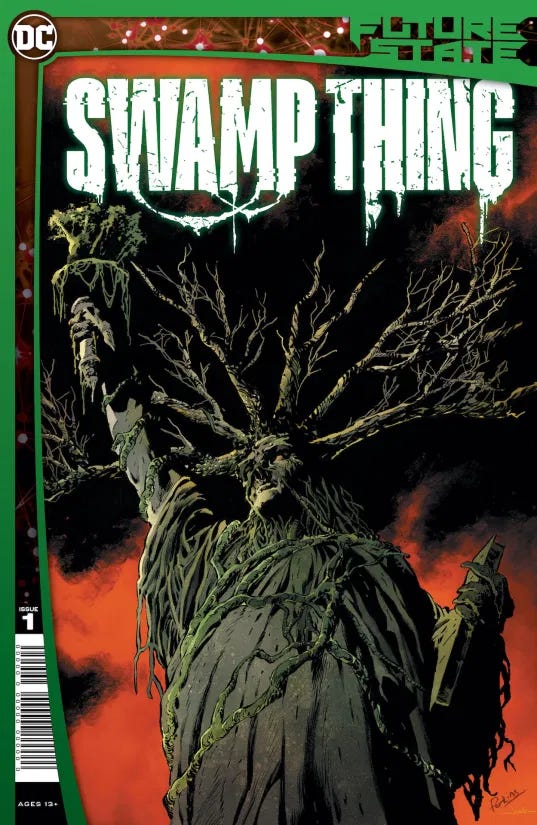 Ram is also working on the Catwoman and Justice League Dark titles, Dan is writing Superman/Wonder Woman, and Sumit Kumar is drawing The Outsiders. Look at the cool shit my friends are doing!
2. Sundry
Linkblogging for the week:
The day grew messy as the running went on. It had rained for days before, and most of the course was a slog: muddy, slippery, and cold. And, at about 12 hours in, every one of my friends, except for me, had stopped running, and I found myself where this essay begins: alone, in the dark, wrestling with meaning, unable to stop. I am scared of this impulse in myself. Once, during a high school cross-country race, I fell and hit my head on a rock, suffering a minor concussion. I got up, and finished the race in what must have been last place. It was not brave, or courageous. It was dumb. But I did it, because I felt like I had to, because I was worried about what other people might think if I didn't. The truth is, those who loved me would have loved me regardless. How hard was that for me to understand? It's still hard. It's really fucking hard.
This week's reading:
Slaughterhouse-Five – Kurt Vonnegut, Ryan North & Albert Monteys: Incredibly strong comic-book adaptation of Vonnegut's second-best novel (behind Cat's Cradle, of course) that retains everything that's good about the original while adding its own whimsical flavour to it. Monteys has a marvellous facility with body language and colour that fits right in with the po-faced dark humour of the book. Highly recommended.

Superman's Pal Jimmy Olsen – Matt Fraction, Steve Lieber, Nathan Fairbairn & Clayton Cowles: This came highly recommended, and I have to say it's a delight – the plot's not much to speak of, but it's relentlessly funny and over-the-top ridiculous as any good Jimmy Olsen book deserves, and the art team nails everything Fraction throws at them.
3. Recommended Viewing
More light-hearted than usual. I've been watching The Chef Show on Netflix, based on Jon Favreau's movie Chef (which I also have a soft spot for). In the show, Favreau and his cooking trainer on the film, Roy Choi (the guy featured in the end credits teaching Favreau how to make that grilled cheese), visit restaurant kitchens as well as celebrities (mostly people that Favreau knows, or that Netflix has on retainer) and cook and chat.
It's very much in the trend of the tv version of adult contemporary music – where you put it on for a half hour because you can't watch anything with actual stakes – but there's something I like about this show more than the standard cooking reality show (Masterchef, Bake-Off or whatever) on one hand and the hardcore food shows (like Cooked or Bourdain on the other hand), and that is the combination of the amateur and the expert.
Favreau, for example, has learnt just a little bit about cooking for the movie, but he's making this show because he wants to learn more – because he can, because he thinks food is important. And I really like to watch people putting things together in their heads – watching what an expert does and then trying it themselves, figuring shit out, using one kind of logic to deduce another. And doing that not because they're trying to get somewhere with it, but for its own sake. But then it's also got the appeal of watching expert craftspeople at work, doing what they do best.
There's an episode about Favreau trying to up his bread skills in one season, and then that leads to an episode in the latest season where Favreau takes Sam Raimi through the steps of home-baking sourdough with the confidence of a good craftsman.
It's nothing that'll change the world, but I like it. And it seems particularly appropriate for the pandemic, when a lot of people I know had time on their hands and did stuff and learnt new things just because.
4. From the Commonplace Book
Recent conversations with Ram about how conflict is often used as shorthand for tension reminded me of this. From an interview with Ocean Vuong by Spencer Quong:
On Earth [We're Briefly Gorgeous] uses the kishōtenketsu structure of classic east Asian narratives, which does not rely on conflict to advance the story. As Vuong told Kevin Nguyen for the New York Times, "It insists that a narrative structure can survive and thrive on proximity alone. Proximity builds tension."
Filed under #writing.